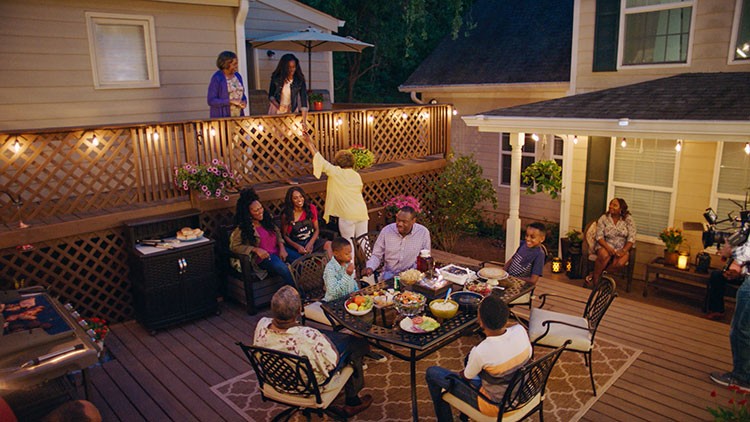 DIY and blogger, Ashley Basnight from Handmade Haven helped The Heard family transform their patio deck into the perfect, functional space for their family gatherings. Read more about how she completed the patio makeover below.
Patio Makeover: A Transformation for the Perfect Family Celebration
There is something really special about being able to transform a space for a family. The Heard Family had this awesome patio deck that they utilized as a family weekly, but it needed a little love. That's where I, as the designer, came in.
I wanted to turn the Heard's patio deck into an outdoor oasis where they could really enjoy hanging out with immediate and extended family. One unique thing that was extremely cool about the Heard's patio deck was that it was connected between their house and their grandparent's house.
When picking out items for the Heard's space, I really wanted to keep the family in mind. I sought to choose the best products for their needs, as well as select what would work and look best for existing patio space.
Brightening up the Space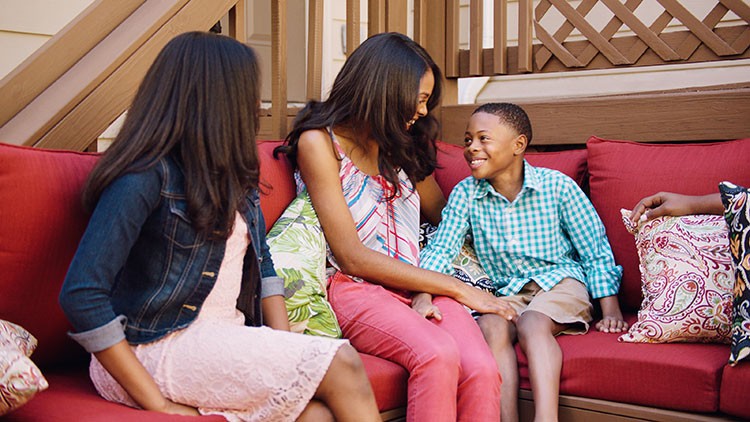 When I first saw the Heard's deck, all I could think of was, "man that is a lot of brown!" Their patio deck was built beautifully but the lack of bright colors made the deck feel really dark. The deck featured a long seating area that was a perfect fit for the Hampton Bay Chili Texture 2-Piece Deep Seating Outdoor Lounge Chair Cushions and I threw in a couple of Fern Medallion Square and Chili Paisley Square Outdoor Throw Pillows to really make the seating space fun. This alone made the deck look and feel different.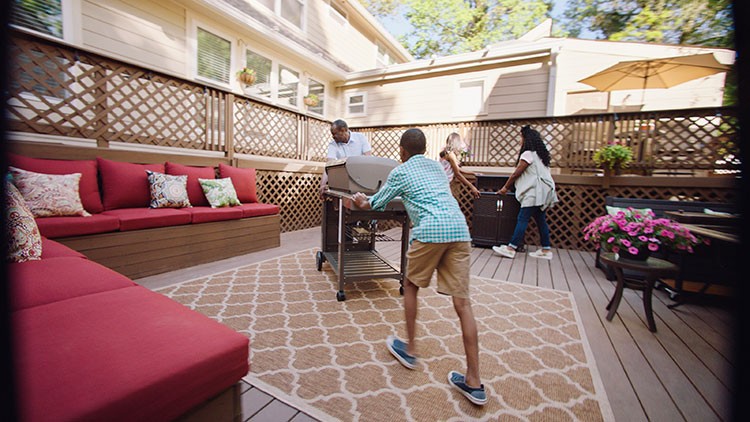 The big open deck floor space in the center was just calling for a big rug, so of course I added one in. I went with the Hampton Bay Trellis Tan Indoor/Outdoor Area Rug because the design on the rug was bold enough for the rug to stand out but also the color was more of a neutral color that still blended well with the patio deck.
The Perfect Grill for the Grill Master
Picking out the grill probably took the longest out of the whole process because there were so many great options. I also knew that Grandpa Heard was a grill master and the grill was well used year round, so I couldn't let him down. After looking through several grills, I finally decided on the Weber Genesis II E-410 4-Burner Propane Gas Grill in Copper with Built-In Thermometer. Not only does it have a high performance grilling system with a large cooking area, but the copper finish on the grill hood really makes this gas grill stand out. Grandpa Heard would surely be cooking in style.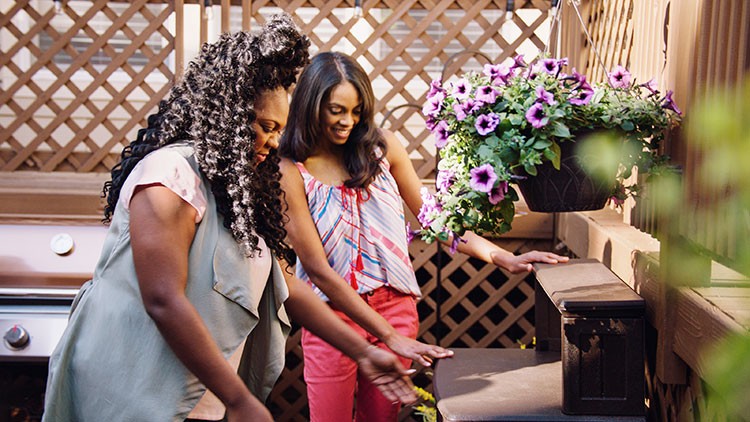 Although Grandpa is known to be the family Grill master, Jamila doesn't fall too far behind; so I added in this Grill Prep station close to the grill so that she could help assist with the grilling. "Watch out Grandpa, Heard, Jamila's coming through!"
Tying it all Together
After all of the bigger items were placed on the patio deck, we started adding in the additional items to tie it all together. I placed some Hampton Bay Lanterns all around the patio deck and added a few end tables to bring a little flavor. The Hampton Bay Round Metal Garden Stool was one of my favorites.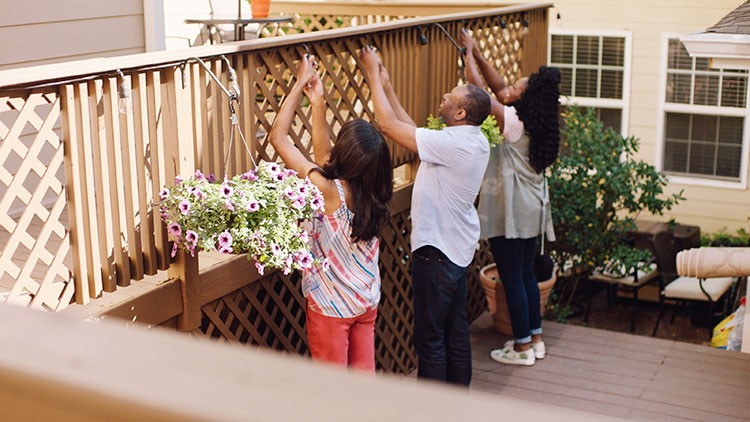 When I told Jamila about the plans for lighting, she was very excited and I was so glad because this probably was my favorite part of the process. There were a few options for where I could hang the lights, but I ended up placing them on the bottom level of the patio deck to really illuminate the space.
Having it placed down low also made it easily reachable for the Heards to be able to change bulbs out easily. Hanging lights is one easy way to make a patio deck space feel like a getaway space and this Hampton Bay String Light Set was easy to hang up in a matter of minutes. I also picked up some Remote Ready LED Outdoor Candles that were battery powered and controlled by a Candle Remote control. These really added a warm feel to the patio deck along with the string lights. I placed them in the Hampton Bay Metal and Glass Lanterns in Copper all around and they couldn't have looked better.
In addition to the lighting, I knew this deck space needed some greenery, so I hung plants, everywhere! You can never have too many plants, right? While picking out items for the Heard's deck, I knew I was going to utilize pots for the deck floor but I also wanted to hang plants on their deck. Luckily, I found these cool Black Iron curved Plant Brackets that screwed right into the deck that made it easy to hang the Devon and Metal English hanging baskets. Having the plants hanging on the sides of the deck really tied in the whole look of the deck space. I utilized all kinds of plant colors; Reds, yellows, oranges, you name it, and it made the patio deck pop, especially coupled with the Southern Patio Resin Planter and the White Washed Brown Faux Woven Planter.
A Gathering Space for the Whole Family
When planning out the seating for the patio deck makeover, I really wanted to utilize every space I could being that the Heard's had mentioned several times how much they loved having family over for events. When first checking out the space, I realized that the patio deck area had a huge open area space in the center. The Hampton Bay Belcourt 7-Piece Metal Outdoor Dining Set with Cushion Gaurd Oatmeal Cushions was the perfect addition for this center space. Originally, I thought about placing an umbrella in the middle for shade, but opted for this really cool Hampton Bay Antique Bronze Portable Table Top Gas Fire Pit. I knew it was something the kids would enjoy, and I was right; they loved it!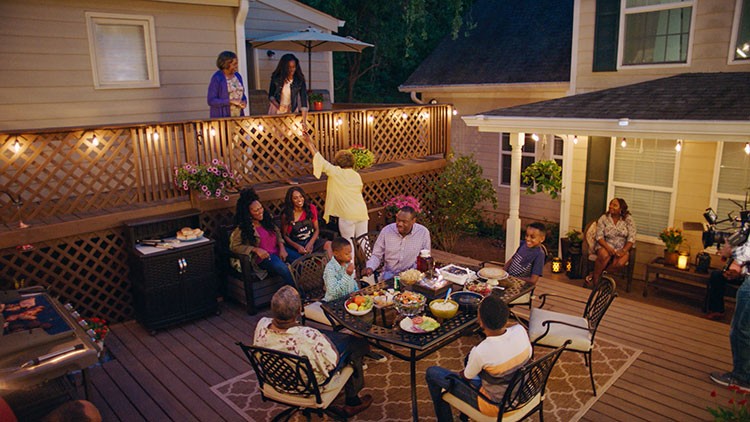 Underneath Jamila and Ryan's covered patio space, right outside of their house, I placed two Hampton Bay Beacon Park stationary wicker Outdoor Lounge Chairs along with a Hampton Bay Mix and Match Wicker Outdoor Coffee Table for them to enjoy each other in a cozy spot. I also threw in an extra item for Dad! With Grandpa being the grill master, and Jamila being the nest grill master in line, I didn't want Ryan to feel left out. He was known to be the cleanup crew, so I threw in a Keter Patio Deck Box Storage Bench to hide all of his cleaning supplies inside. It provided extra seating and secret storage for Ryan. Win, Win!
An Enjoyable Space for the Grandparents
Although the deck was shared between both the grandparents and the Heard's, I really wanted the grandparents to have their own space too. So I created their own little special spot on the terrace where they could look over everyone on the patio deck and enjoy themselves. To make this space really enjoyable, I placed the Hampton Bay Statesville 3-Piece Steel Outdoor Bistro Set up on the terrace. With a tough steel frame, and durable chairs that swivel, I knew this would be a bistro set the grandparents could enjoy. I wanted to make sure they were kept out of the shade so I added in this Hampton Bay Statesville 9 ft. Steel Crank and Tilt Round Patio Umbrella in Heather Gray and dropped down a Hampton Bay Diamond Natural 8 ft. x 10 ft. Indoor/Outdoor Area Rug underneath to tie it all together. This spot on the terrace is right outside of their bedroom, so it was the perfect spot for their own patio space.
I was extremely happy that I could bring some great design ideas to the Heard's patio deck that would really transform their space in a way that would be beneficial to them. The Heard family really enjoyed all of the new additions to their space, and now they can party in style.
The post Patio Deck Makeover: A Transformation for the Perfect Family Celebration appeared first on The Home Depot Blog.