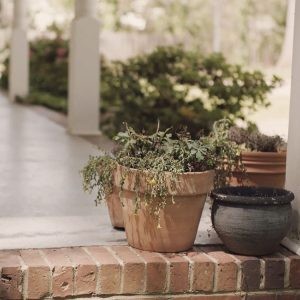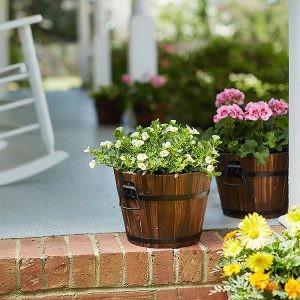 Chances are winter may have left some of your outdoor potted plants looking less than lush.  Now is the perfect time to refresh your patio or porch with new planters overflowing with colorful blooms (or fresh edibles). And Miracle-Gro has an excellent variety of soils for all types of plants and containers, so it's easier than ever to garden with a green thumb.
Choosing what to plant is the first step. For all-season color that's heat-tolerant and low-maintenance, try annuals from the Proven Winners line, like Superbells (aka Calibrachoa). As they grow, they'll spill over the planter's edge, softening your outdoor space. And if you're ready to try your hand at growing fruits and vegetables, you can't go wrong with a Bonnie Plants Better Boy Tomato plant.
Once you've selected your plants, choose planters that complement your outdoor decor, like these classic whiskey barrels. Many planters are designed with drain holes in the bottom to keep the soil from becoming waterlogged, but it's easy to make them yourself with a cordless drill and the appropriate drill bit.  If planting several varieties of fruits and vegetables together, be sure to plant them in either an extra-large planter with drain holes or a raised bed.
Next, slip on your work gloves and add the appropriate soil to the planter. Miracle-Gro Moisture Control is a great choice for most container gardening plants (flowering or edible), as it prevents you from over- or under-watering.  If planting several edibles together, go with Miracle-Gro Nature's Care Organic Raised Bed Soil – it's packed with rich organic matter your plants need to stay healthy and hydrated. As you remove your plants from their original containers, gently loosen up the roots (if rootbound), then place the plants in the soil at the correct depth.
To supercharge your plants, add a little Miracle-Gro Organic Nature's Care All-Purpose Plant Food into the mix. It helps correct any nutrient deficiencies in shrubs and flowering plants, as well as fruits and veggies.  Once planted and fed, thoroughly water your new plants and enjoy.
The post Perk Up Your Planters appeared first on The Home Depot Blog.