It can be easy to overlook your outdoor space in the winter months, but for this year's Patio Style Challenge, Nicole White of
Live Laugh Decorate
took the opportunity to give her patio a refresh. After incorporating stylish seating, a few pops of color, and some greenery, Nicole transformed her patio into the perfect outdoor space for relaxing and entertaining.
Spring Patio Refresh
It's been two years since we first transformed our very bland backyard into a true outdoor oasis for the Home Depot Patio Style Challenge.
We thankfully survived a wild hurricane season last year, and truthfully with so much rain in our neck of the woods, we've left the furniture covered for much of the year. It hasn't been looking pretty at all.
So, we were super thrilled when we were invited to participate in another style challenge. Our patio needed some love and affection and the Highland Point Collection was just what we needed to breathe some new life into our outdoor space. We are also having the most exquisite cool weather, so a fire pit for late night chats and roasting marshmallows for our little one, Xavier, has been a great addition to our outdoor space.
The space is massive, so we had plenty of room for another seating area.
I also have a very brown thumb, so succulents were a must for me when seeking inspiration for greenery. As you can see from my recent blog post, I've also been obsessed with anything fern tropical so I had to weave these Hampton Bay Outdoor Throw Pillows into the design. We don't have much outdoor lighting, so I often use Hurricane Lanterns with battery operated candles for much needed lighting. They're also an inexpensive alternative to wiring for more permanent outdoor lights.
I always add a side table or two for outdoor design, because we have to have a space for that much needed glass of wine! These Hampton Bay Garden Stools also double as extra seating. I also wanted to add woven textures throughout, and did so via the handles on the hurricane lanterns and this Hampton Bay outdoor rug. The rug also helped to soften the hard lines of the patio pavers we did ourselves which you can read about here.
And here's how things are looking these days! I still can't believe how much seating we now have outdoors. I'm pretty obsessed with the curved lines on the back of these chairs and how comfortable they are.
Yes, we have a fire pit in South Florida! We've had temperatures in the low 50's for a few weeks, which is freezing for most of us. This fire pit is just what the doctor ordered.
These palm frond pillows are the perfect way to pay homage to the great outdoors. I've been obsessed with them for forever and so of course had to use a few in our new seating area.
Can you guess which corner is my favorite?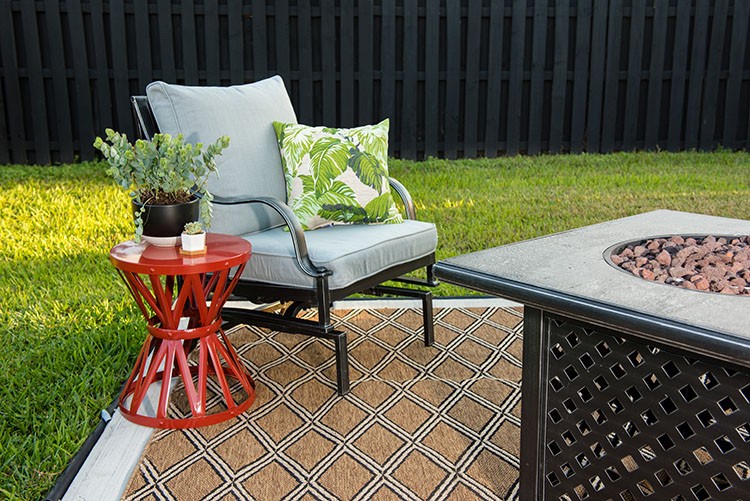 The Caribbean girl in me loves a pop of color and of course, it's where I sit my wine after a long day. We are beyond thrilled to have this new cozy corner and I'm already planning a party to celebrate the newest member of our outdoor family. Cheers!
The post Spring Patio Refresh appeared first on The Home Depot Blog.