Sara Syrett of Twelve on Main went all out decorating her front porch for this year's Holiday Style Challenge. Sara's woodland farmhouse Christmas decor on her front porch was inspired by her family's tradition of cutting down their own Christmas tree.
Check out Sara's tips on how she created the amazing look!
Wonderful Woodland Farmhouse Christmas Decor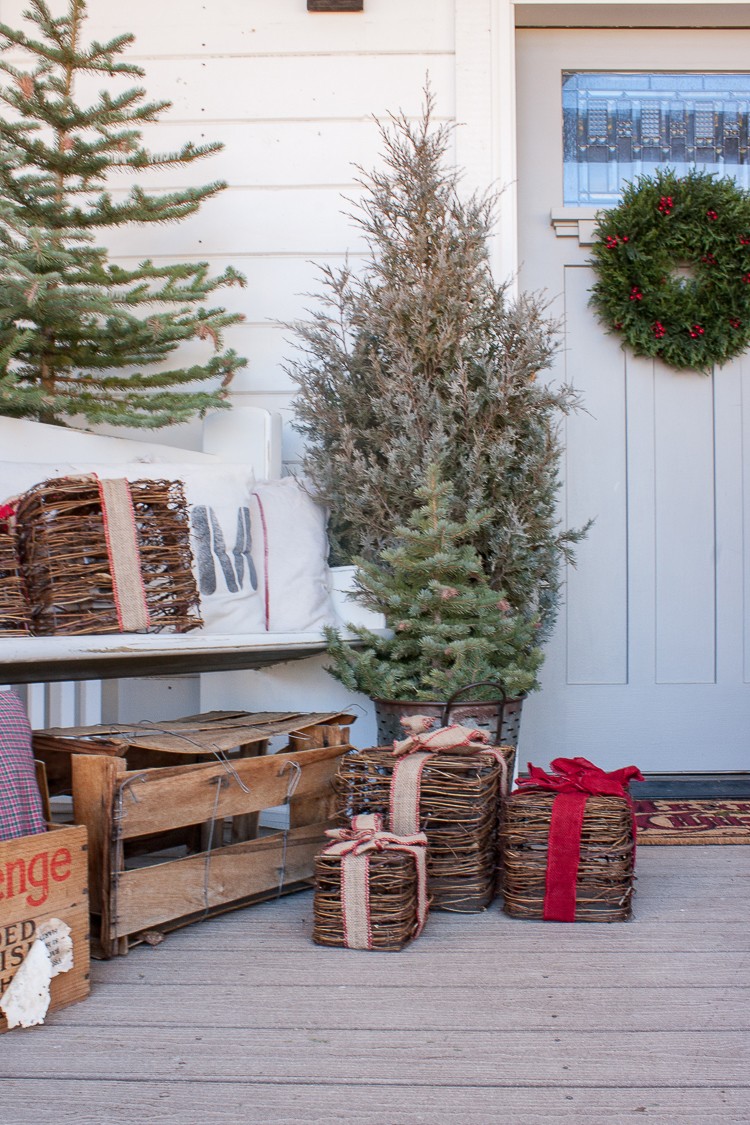 We live in a small farming community. As the holidays approach, it is fun to see all the many traditions that those around us share and do during the Christmas season. One of the biggest traditions is going out in the mountains and cutting down a Christmas tree. Cutting down our own Christmas tree is one of our most favorite traditions. We take the kids, turn up the Christmas music, snack on oranges and Christmas candy, and just enjoy each other.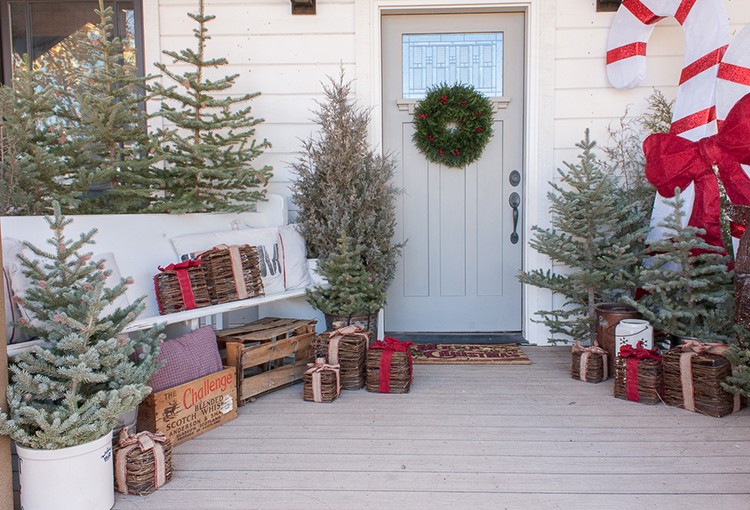 I was so excited to take part in this year's Holiday Style Challenge with The Home Depot. This challenge starts when The Home Depot sends us a surprise decor item, and we are to create and style a space. I mean, that is just speaking my language. My item was a large LED candy cane set. When I say large, I mean like 6-ft. tall!
My home is rustic farmhouse style, and I like to keep things muted. This candy cane was a bit out of my comfort zone. Don't get me wrong, I loved it. But, it was definitely going to be a challenge, and that is what this is! So, I decided to take my love for our Christmas tree cutting tradition and combine it into a wonderful woodland farmhouse Christmas.
I decided to take our cutting tradition and turn it up a notch by creating my own woodland forest.
Materials
Besides the trees, these are the other items I used to style my woodland farmhouse Christmas porch. All these items can be found at The Home Depot.
I also used my favorite salvaged farmhouse church pew as a focal point on the porch.
Large Candy Cane Set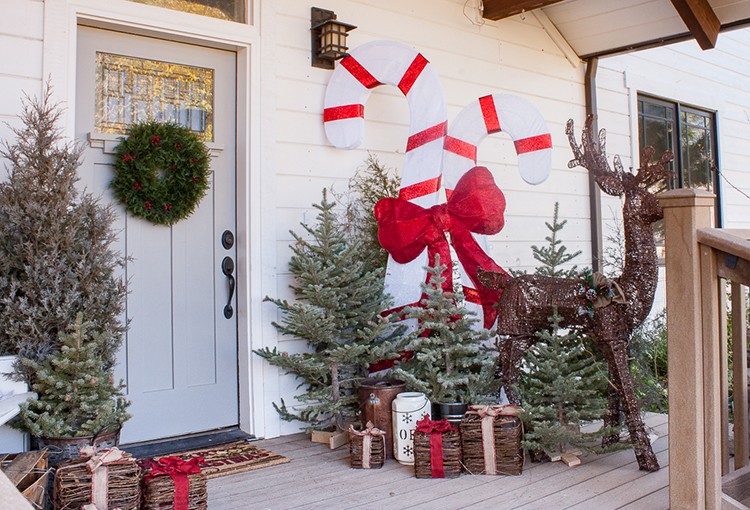 Since the candy cane set was quite tall, I needed to make sure to balance the opposite side with taller elements as well.
Accent Farmhouse Christmas Decor
My goal was to create a forest of staggered Christmas trees, an abundance of gifts, and use the candy cane and deer as part of the scene.
I used old vintage crates as a way to store homemade pillows.
The galvanized buckets were used to hold my trees, which I alternated. I used the buckets on a few of them, and then built tree stands out of pieces of wood for some of the smaller trees.
When creating anything farmhouse its important to consider the elements of the pieces you want to incorporate. Use nature, as well as nature inspired elements. Also consider keeping the colors simple, and use neutrals.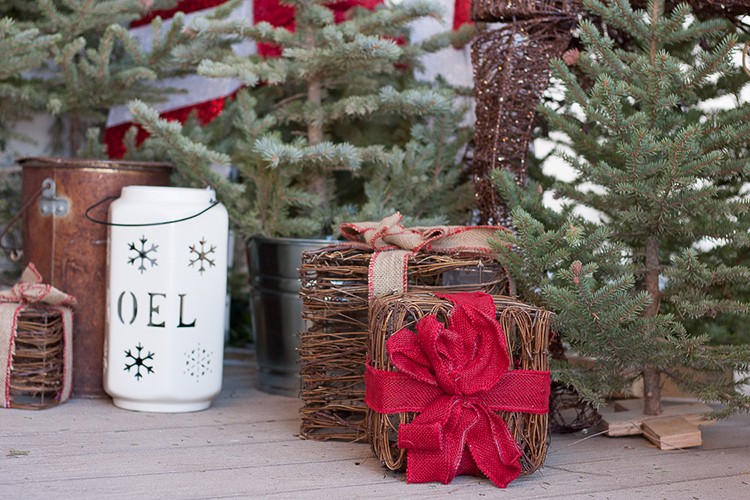 Adding pops of red is a great way to add a festive touch. I love the pops of red on the bows of the presents and the red on the rug, as well as the red on the candy canes.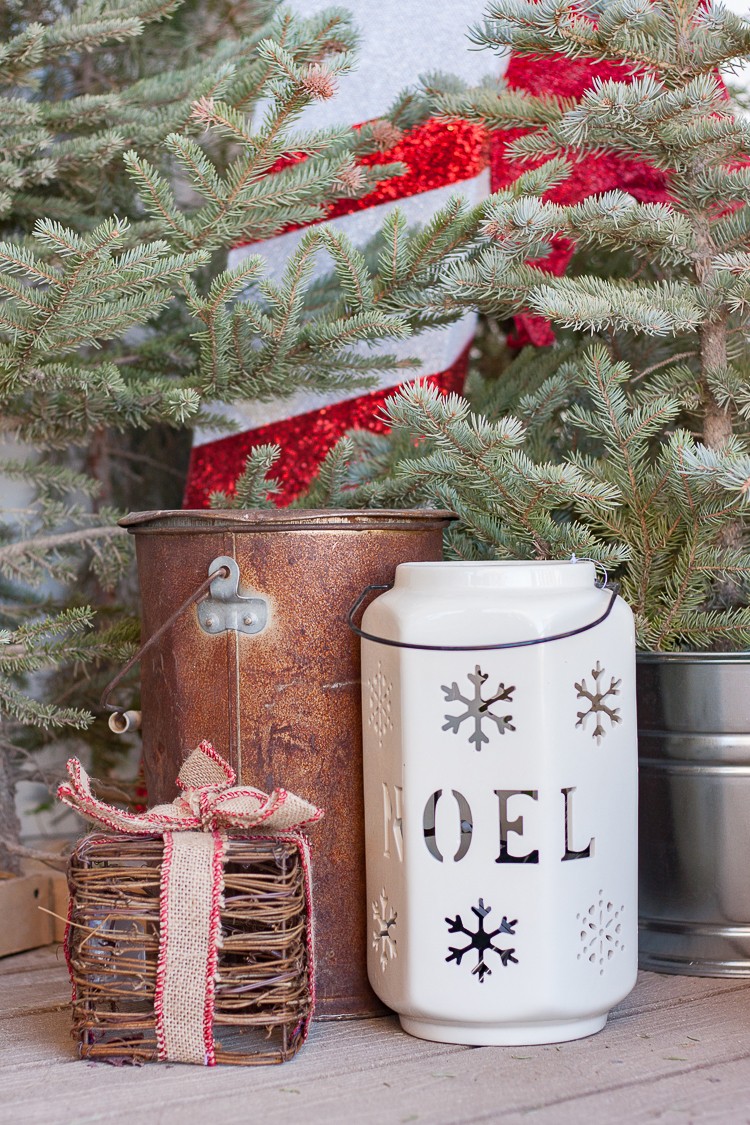 I also added a really pretty white luminary to the scene for juxtaposition of the clean white lines next to the rusted bucket beside it.
Vintage Pew
I loved incorporating my old church pew as a focal point. It is an inviting place for people to gather and drink a cup of hot cocoa. And if not that, it just looks pretty!
Cedar Berry Wreath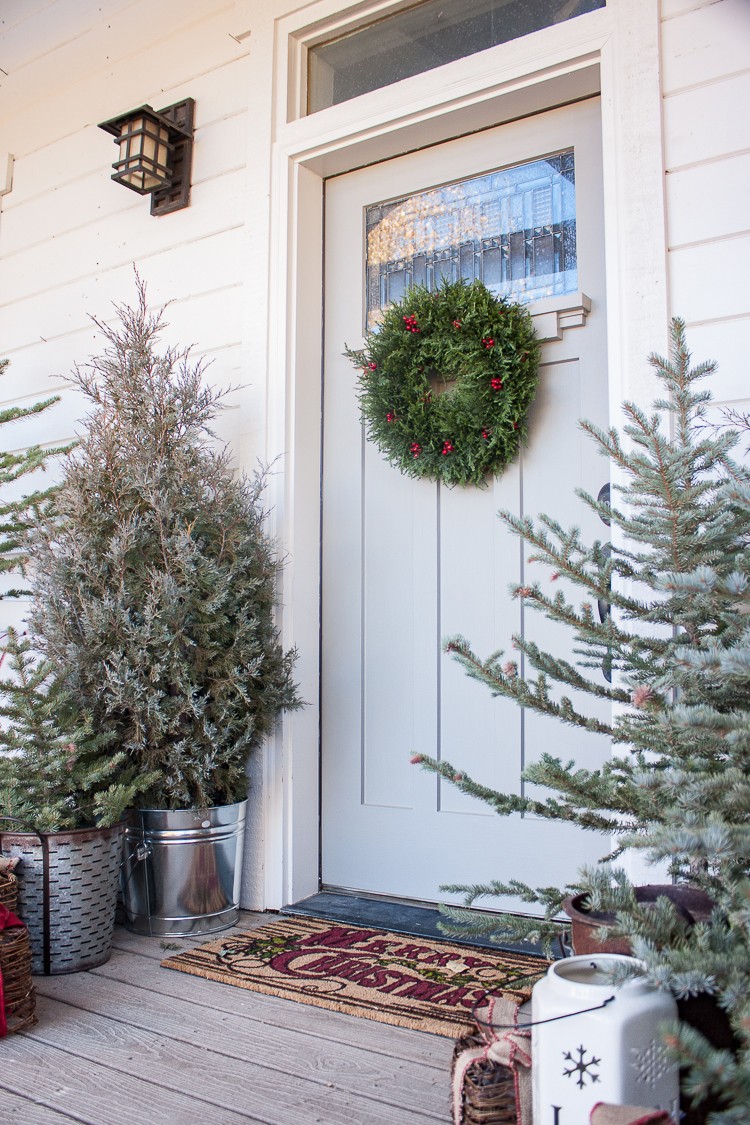 My final touch was a faux cedar tree wreath: I love the look of cedar trees and really liked the simplicity of this wreath.
I am so glad to be able to take part in this challenge and I am so grateful to The Home Depot for being so awesome. I loved using all their products to create amazing and festive woodland farmhouse Christmas decor for our porch. Make sure to check out their collection and find some great products to bring your Christmas to life!
The post Wonderful Woodland Farmhouse Christmas Decor appeared first on The Home Depot Blog.