What do you do when you want to showcase your Christmas spirit but don't have much time? Arin Agase of
Happily Inspired
was able to take advantage of a few festive Home Depot products, getting her home holiday ready in just 20 minutes.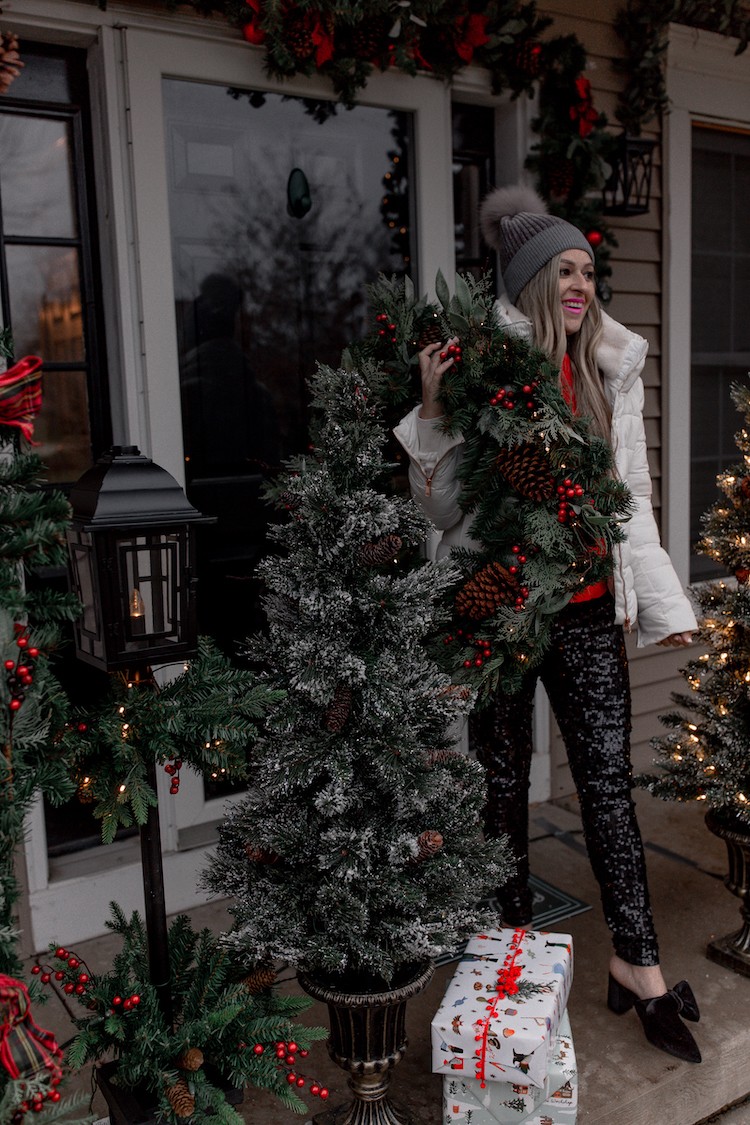 Hi there! Arin Agase here, Chicago based lifestyle blogger, mama and holiday obsessed! Today's post is truly a 'pinch me' moment in my blogging journey. I got invited by The Home Depot team to participate in the Holiday Style Challenge! Like many of you, the holidays are my absolute favorite time of year! I'm a homebody at heart, so anything that requires being home with my loved ones is exactly where I want to be. Cue the twinkling lights, baking, cozying up by the fire and decking all of the halls. Did I mention eating everything in sight?
Getting Ready for the Holidays
As a busy stay-at-home-working-mama (say that five times fast) I knew it was important to stay true to me. This meant simplicity. Time isn't on my side these days, so I wanted to share an attainable holiday porch in 20 minutes or less. Yup, this was done in under 20 minutes. No time to get fancy here! Although, it certainly looks the part. Holiday decor is where I shine, and the pieces I'm about to share with you – I've been eyeing forever! I'm so excited to bring these out year after year and make it a fun family tradition. Below, I'm sharing everything you need to create my festive front porch in under 20 minutes or less! PS: I cannot wait to see what this looks like when it snows – will make sure to post an IG so stay tuned!
Transform your space with Garland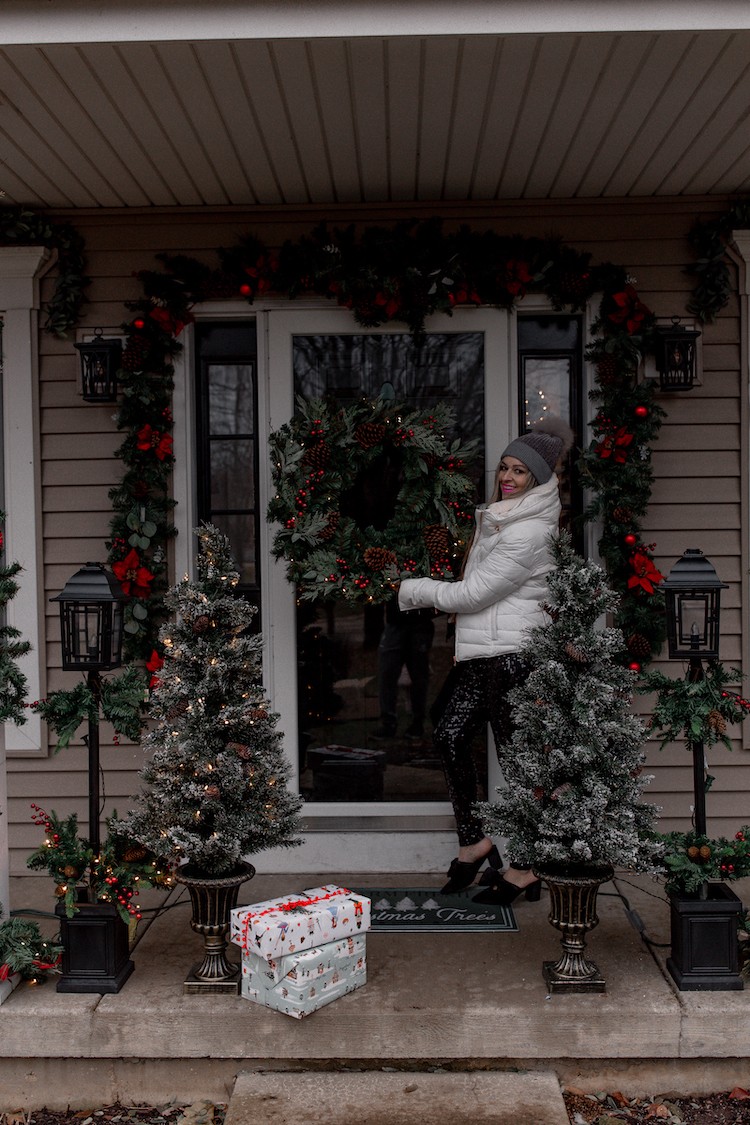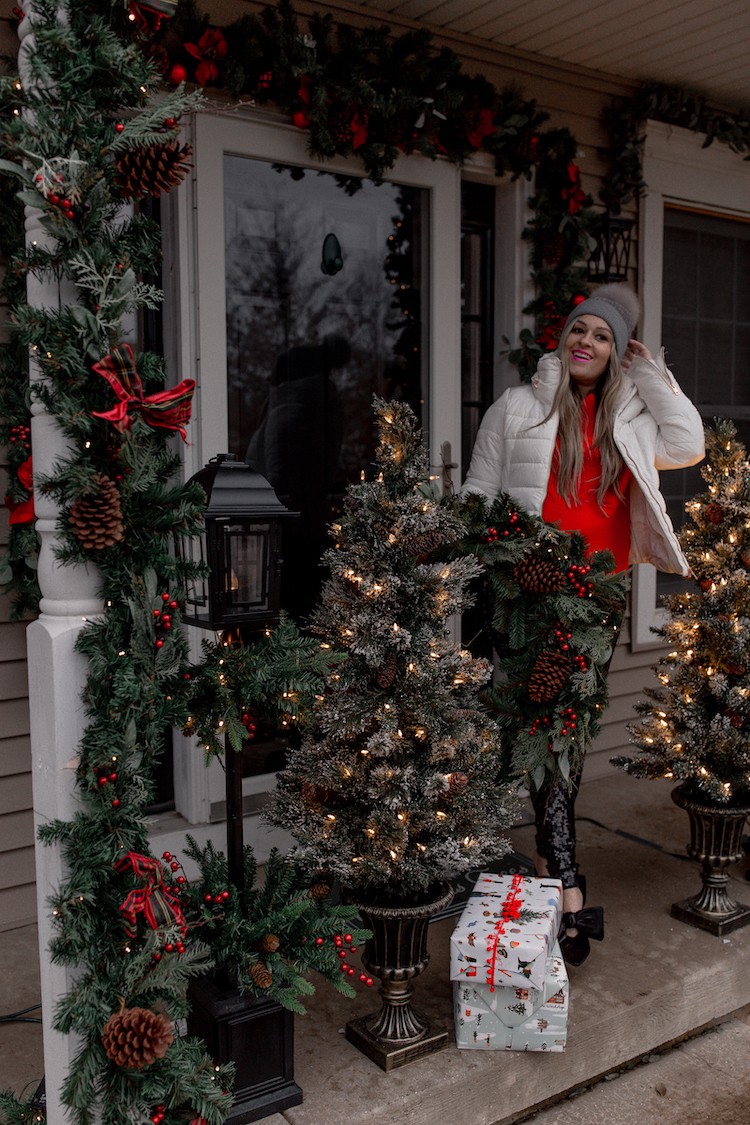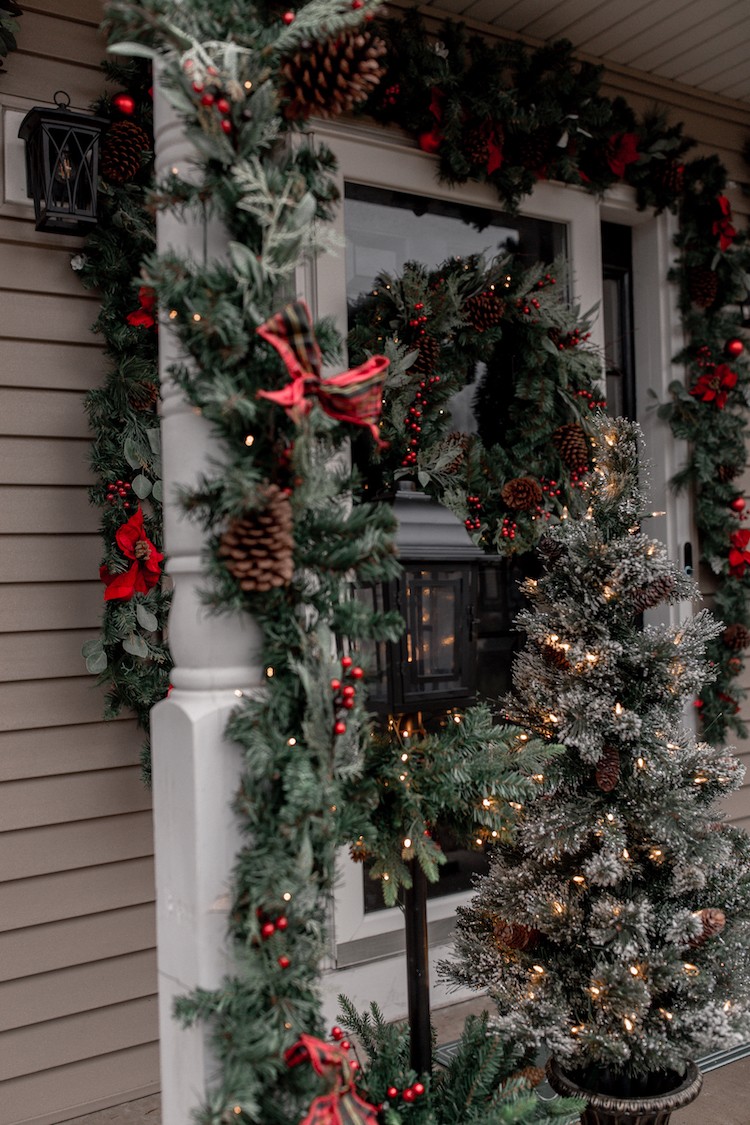 It's honestly insane what some garland can do. It totally transformed our entire front porch. The one wrapped around the front door is a 17-ft artificial Poinsettia. It includes pinecones, berries and ornaments. No fussing with pieces, or trying to make things symmetrical since it's already done for you. I just fell in love with the look of this, and the reviews didn't disappoint! Not to mention, it looks fabulous indoors and outdoors. You can see some of the images here (what sold me on purchasing!) A couple people driving by even complimented it!
I also used this 9-ft battery operated pre-lit Christmas garland on both sides of our poles. It looks even dreamier in person. The plaid bows sold me, but the pinecones, greenery and berries are obviously just as cute. I even got an extra to put in the living room (they're that good). Ok, and lastly – this 6.5 ft olive artificial garland looks beyond realistic! We put this above our windows, but I'm already envisioning this being used as a table centerpiece during the holiday season. It's not recommended to be used outdoors, but we have a covered porch so figured it would be fine. This would even look darling on a Christmas tree – seriously, so many uses in one.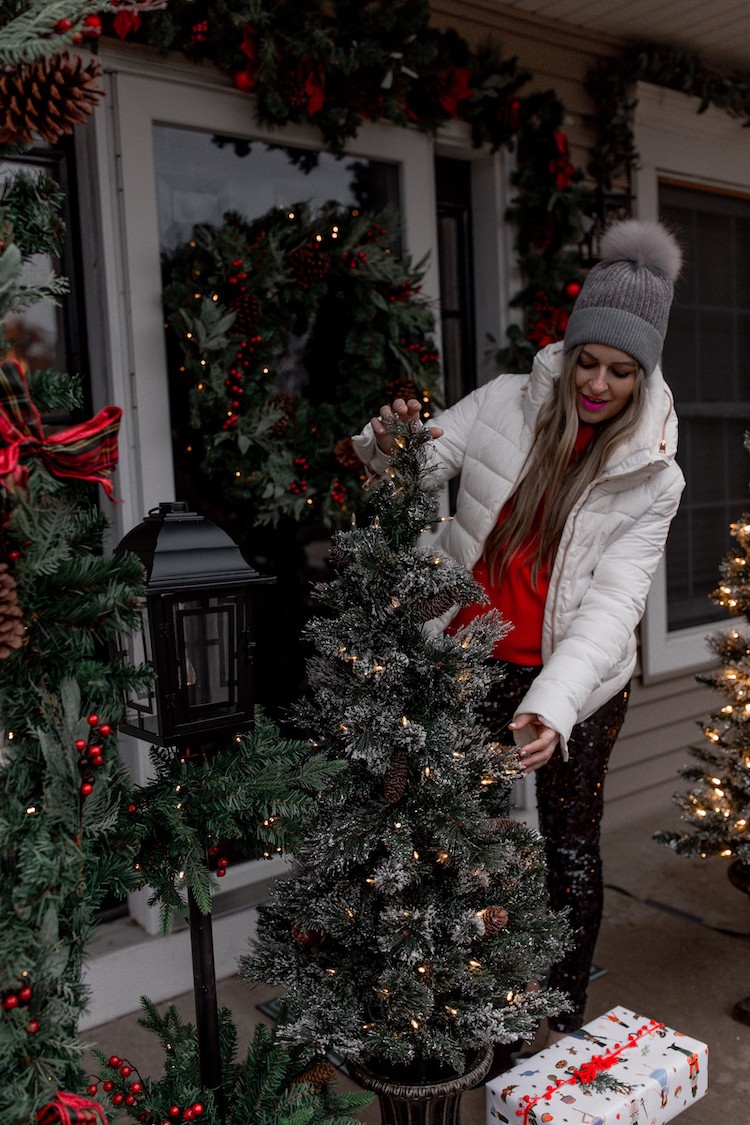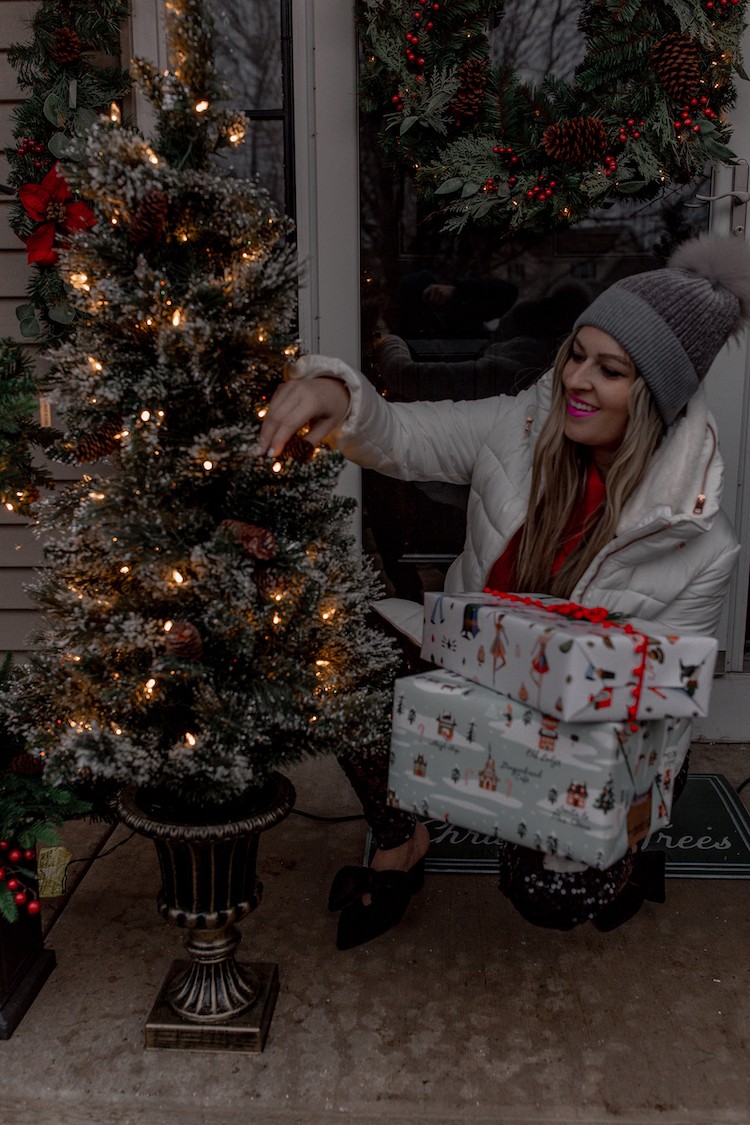 For the ultimate wow factor, I picked up (2) 4.5 ft pre-lit Amelia-Pine-Potted Artificial Christmas trees to have on both sides of the porch. I fell in love with these immediately. These are another no-fuss (simply take out of the box) and you're ready to shine situation. Are you catching my 20 minutes or less now? Pine cones, light flocking detail, and glitter accents create a classic holiday style built for any home. The decorative base adds stability while adding a touch of elegance to any doorstep. I may have to get 2 more to have in the interior hallway – they're that good. I also purchased these on reviews, and they certainly did not disappoint. If you're looking for a taller style, they have a 6.5 feet style, too! These are very popular, so act quickly!
Old Holiday Charm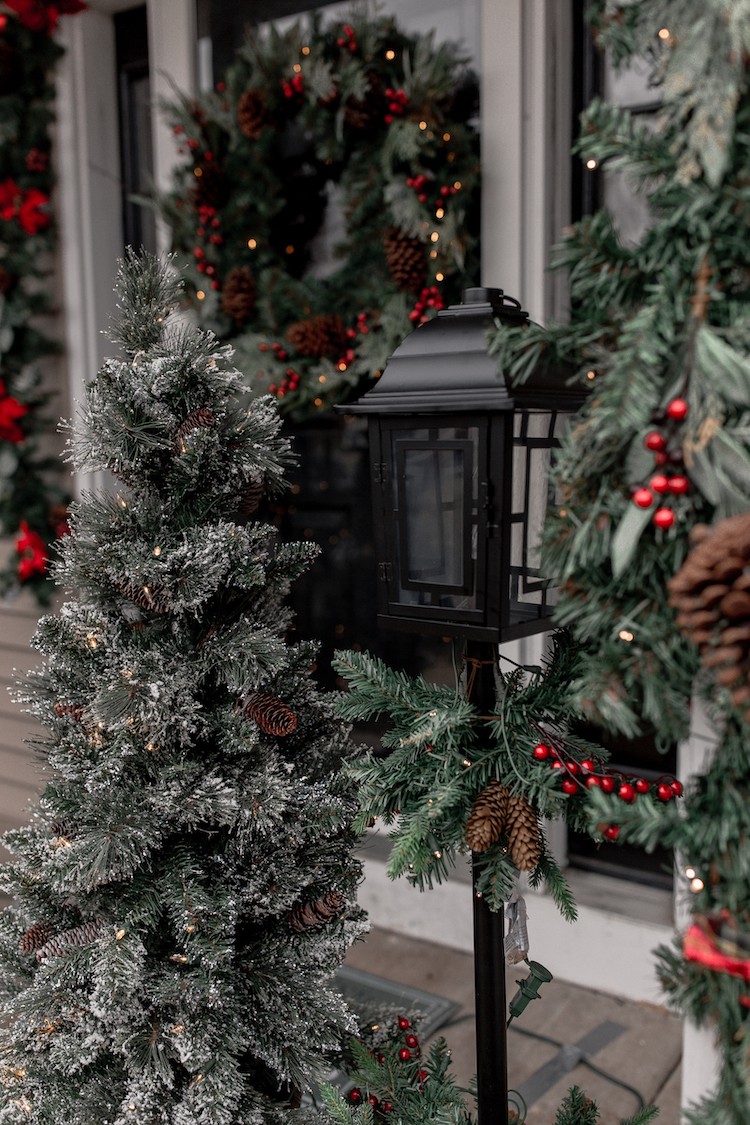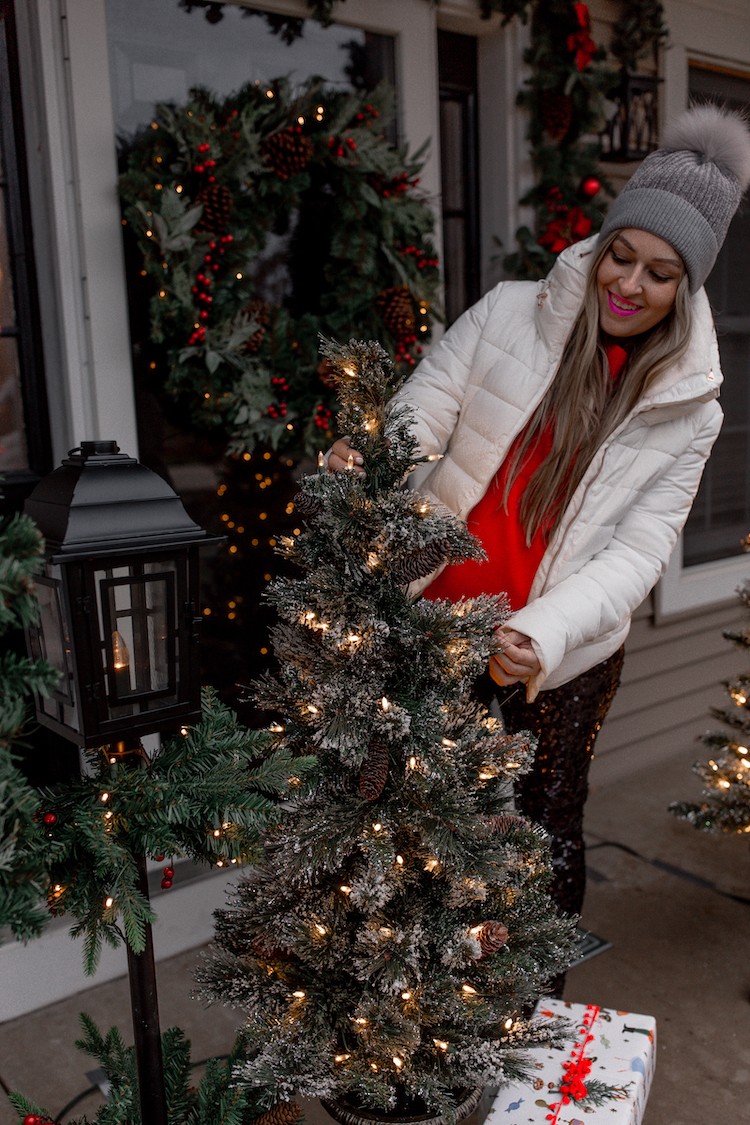 These are the Christmas lanterns I've been eyeing season after season, and they're finally mine! Personally, whenever I look at these – I feel like I'm transformed into an old holiday novel. This is another decor item that would serve just as cute inside. Perhaps next year I'll create a fun indoor scene – the options are endless! Oh, and comes in two pieces which makes set-up a breeze (The Home Depot does it again!) My advice? If you only get one/two pieces from my list – these lanterns are it. Seriously, so good. Everyone loves them.
Add the Finishing Touch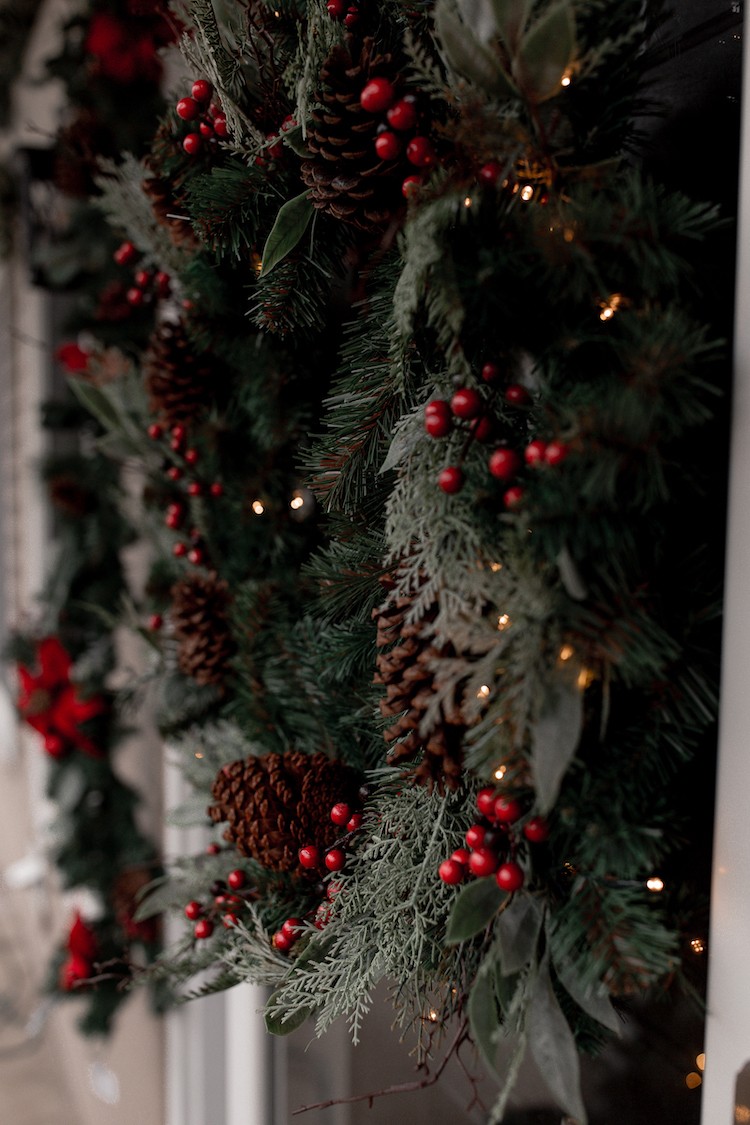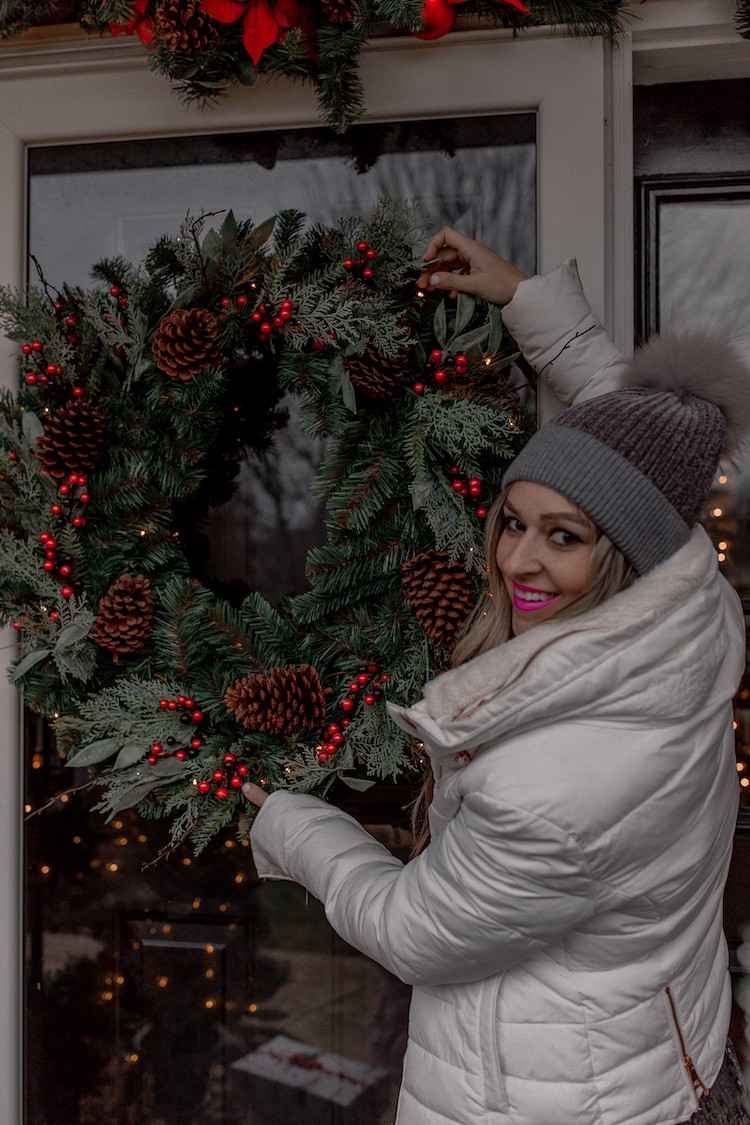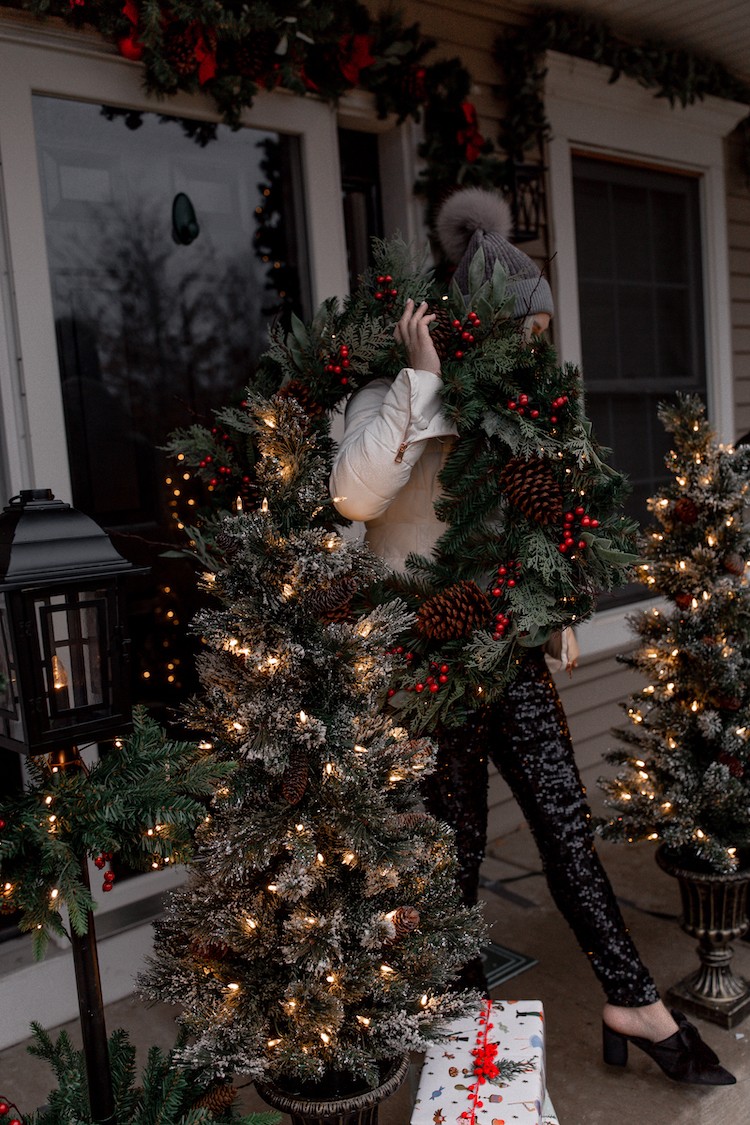 The statement wreath is like the 'lipstick' – it's the finishing touch that just pulls everything together. I opted for a 36-in pre-lit artificial Christmas wreath! It looks absolutely darling day/night, and of course I stayed on theme with pinecones and berries. I'm quite obsessed with how glamorous my front porch feels with this addition. I probably need one for every window of the house now. If you're looking for the real deal, make sure to visit your local Home Depot! They have hundreds of choice, another reason why it's my go-to for everything for the holidays.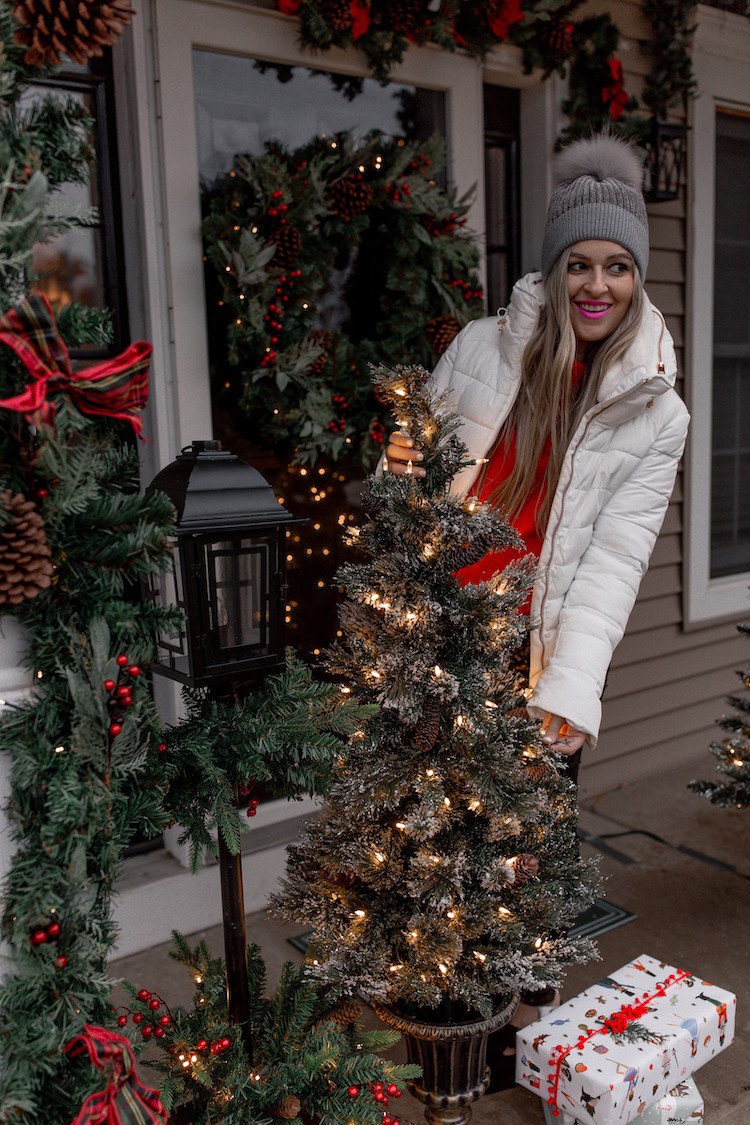 Supplies Used
Product List
The post Festive Christmas Porch in Under 20 Minutes appeared first on The Home Depot Blog.